The Minister of Foreign Affairs of Turkmenistan met with the Minister of Foreign Affairs of Afghanistan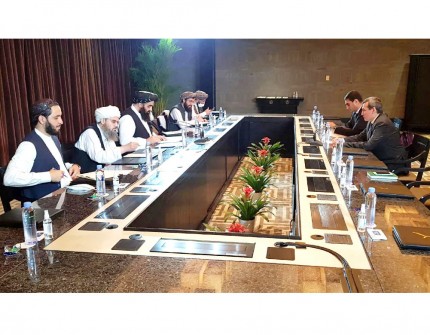 On March 30, 2022, as part of the participation in the third meeting of the Ministers of Foreign Affairs of countries neighboring Afghanistan in Tunxi, China, the Minister of Foreign Affairs of Turkmenistan Rashid Meredov met with the head of the foreign policy agency of Afghanistan, Amir Khan Mottaki.
During the talks, the parties stressed the importance of developing and strengthening bilateral relations in all areas of cooperation. The interlocutors considered topical issues in the field of political, diplomatic, trade-economic and humanitarian cooperation.
The parties noted the effectiveness of the Turkmen-Afghan talks held during the visit of the Afghan minister to Turkmenistan in January this year.
An exchange of views also took place on the implementation of joint infrastructure projects, such as the Turkmenistan-Afghanistan-Pakistan-India (TAPI) gas pipeline, the Turkmenistan-Afghanistan-Pakistan (TAP) power transmission line and railway projects.
The diplomats stressed the need to further intensify the Turkmen-Afghan cooperation in the field of security.