Ambassador of Burkina Faso presented copies of credential letters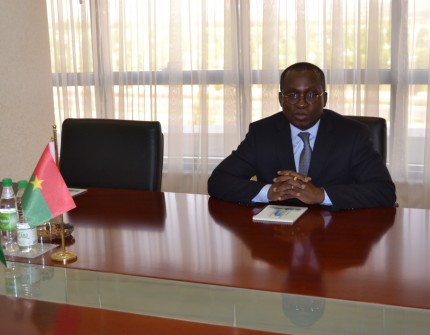 On July 5, 2017 in the Ministry of Foreign Affairs there was a meeting with the new Ambassador Extraordinary and Plenipotentiary of Burkina Faso to Turkmenistan (with residence in Moscow) Antoine Somdah, who arrived in Ashgabat on a working visit to present credentials.
At the beginning of the meeting, the Ambassador presented copies of his credentials. Then, during the talks, expressing readiness to intensify bilateral relations, the sides discussed issues of mutual interest. The Turkmen side noted the great importance attached by the Government of Turkmenistan to further strengthening bilateral cooperation in the political-diplomatic, trade-economic and cultural-humanitarian spheres.
During the consideration of the prospects for further cooperation, the sides noted the role of cooperation within the framework of international organizations. The sides informed about the export and import potential of both countries and expressed mutual interest in developing relations between the business circles of the two countries, as well as in the processing and textile industries. Among the areas of mutual interest the spheres of culture and education were marked.
Noting the focus on fruitful and effective cooperation, the Turkmen side expressed its readiness to render all assistance and support to the Ambassador's activities in his new assignment.