MEETING OF THE BUSINESS COUNCIL "TURKMENISTAN-USA"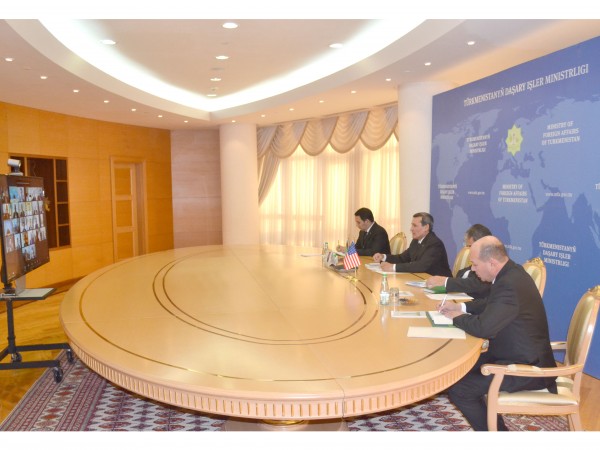 On October 5, 2022, a regular meeting of the Turkmenistan-US Business Council was held via videoconference, during which key aspects of bilateral trade and economic cooperation were discussed.
The meeting was attended by members of the Government, heads of ministries and state agencies of Turkmenistan, Executive Director of the Council Eric Stewart, US Ambassador to Turkmenistan M. Klimow and heads of major American companies - members of the Council, in particular "John Deere", "Case New Holland", "Boeing", "Exxon Mobil" "General Electric, "Coca Cola", "Zeppelin", "Westport Trading Ltd.", "Caterpillar", "Oxbow", "Visa" and others.
During the meeting, the need to diversify the economic partnership between Turkmenistan and the United States was emphasized, whereas a special place was given to investment, financial and banking, agricultural, oil and gas, transport and logistics and technological areas.
Views were exchanged on organizing a visit by a representative American business delegation to Turkmenistan by the end of this year.
The importance of the Business Council "Turkmenistan - USA" in the development of mutually beneficial relations between the two countries was underlined. It was noted that the Business Council, established in 2008 on the initiative of Arkadag Gurbanguly Berdimuhamedov, has become an effective mechanism for establishing and strengthening relations between the business structures of Turkmenistan and the United States.
The Turkmen side expressed the commitment of the Government of Turkmenistan to expanding trade and economic cooperation with business structures of the United States. In addition, the long-term positive contribution of American companies to various spheres of the Turkmen economy was outlined.
The management of the Business Council, noting with satisfaction the practice of a regular productive dialogue, took the initiative to provide in the near future the proposals on new forms and areas of cooperation.
In frames of the session, dozens of online meetings were held between the parties in various areas of Turkmen-American.