Ashgabat 2017 launches Ticket Sales across Turkmenistan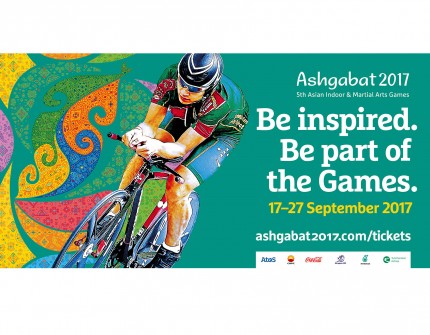 Tickets for the upcoming Ashgabat 2017 5th Asian Indoor and Martial Arts Games will go on sale across the country on Saturday 29 July.
With more than 700,000 tickets available for more than 220 sessions, spectators will be able to watch the best athletes from Asia and Oceania compete over 12 days of competition and across 21 sports. All session, including preliminary rounds and medal events, can be found on the Sport Competition Schedule, which the public can reference to choose the events they want to attend.
To encourage spectators to enjoy the experience of live sports taking place in Ashgabat, the Executive Committee are pleased to confirm that tickets for sport sessions will be priced at 7 TMT and 10 TMT for adults and children under 14 will be free.
Tickets for the Opening and Closing Ceremonies, held on 17 and 27 September in the newly constructed Ashgabat Olympic Stadium, are available in four pricing categories ranging from 50 TMT to 500 TMT.
Chairman of the 5th AIMAG Executive Committee, Dayanch Gulgeldiyev said: "Ashgabat 2017 will be a special event for the people of Turkmenistan, and we want as many people as possible to take up this unique opportunity to watch international sports and to support our athletes."
Tickets will be sold on a first come first serve basis across eight locations in Ashgabat and a further six more across all other regions, offering the opportunity to all Turkmen people to visit the state of the art Ashgabat Olympic Complex.
All tickets will be nominal and will be sold upon presentation of valid Passport or ID card.
Below is a full list of locations and opening times
Ashgabat

"Altyn Asyr" eastern market

08:00 – 15:00

"15 years of Independence" trade center

10:00 – 21:00

Ashgabat Theme park "World of Turkmenbashi Tales"

10:00 – 21:00

"Kopetdag" stadium

10:00 – 21:00

"Berkarar" shopping center

10:00 – 21:00

"Ashgabat" park

10:00 – 21:00

"Gunesh" park

10:00 – 21:00

Park of Berkararlyk district named after Kuly Shamyradov

10:00 – 21:00
Regions

Mary region, Mary city Mollanepes str., h.17

09:00 – 20:00

Lebap region, Turkmenabad city S.A. Niyazov str., h.53

09:00 – 20:00

Dashoguz region, Dashoguz city Turkmenbashy str., h.43

09:00 – 20:00

Balkan region, Balkanabad city Magtymguly str., h.57

09:00 – 20:00

Balkan region, Turkmenbashy city A.Niyazov str., h.27

09:00 – 20:00

"Awaza" national resort area National Travel center

09:00 – 20:00
For Group Ticket requests, VIP Tickets and Accessible Seating please email tickets@ashgabat2017.com or call +993 12 94 8888