Turkmenistan and UNHCR discussed cooperation issues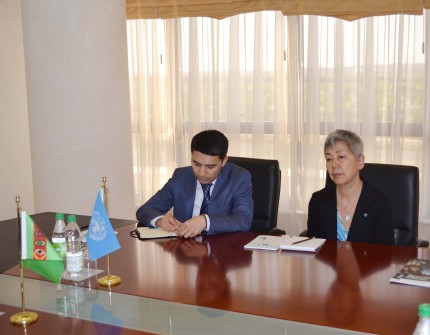 On August 7, 2017, at the Ministry of Foreign Affairs of Turkmenistan there was a meeting with the delegation of the Office of the United Nations High Commissioner for Refugees (UNHCR) led by the Regional Representative, UNHCR Regional Coordinator for Central Asia (with residence in Almaty, Republic of Kazakhstan) Ms. Yasuko Oda.
During the talks, the parties discussed the preparations for holding the V Asian Indoor and Martial Arts Games in Turkmenistan, as well as the participation of the refugee team in the sports competitions of the 5th Asian Games. First of all, noting the uniqueness of this event, Ms Yasuko Oda expressed her gratitude on behalf of the UNHCR leadership to the Government of Turkmenistan for this proposal, as well as the opportunity to participate in such a large-scale event for refugees from Kenya.
The UNHCR Regional Coordinator for Central Asia, noting the humanitarian activities of the country, as well as successful results in resolving the problems of refugees and stateless persons, shared ideas and proposals for humanitarian interaction within the framework of the Asian Games-2017.
During the visit, the delegation of the UNHCR regional office met with representatives of the Executive Committee for the preparation of the Asian Games and the National Olympic Committee of Turkmenistan.