An official visit of the Prime Minister of Georgia Giorgi Kvirikashvili to Turkmenistan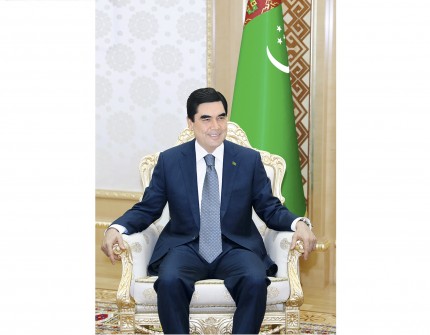 The Prime Minister of Georgia Giorgi Kvirikashvili was in Ashgabat on an official visit on August 29-30, 2017.
On August 30, President of Turkmenistan Gurbanguly Berdimuhamedov had a meeting with the chairman of the Georgian government Giorgi Kvirikashvili. Greeting the Prime Minister of Georgia, the President of Turkmenistan noted with satisfaction the traditionally friendly nature of the interstate dialogue, successfully developing both in bilateral and multilateral formats, within authoritative international organizations and structures.
Thanking for the warm welcome, the guest conveyed cordial greetings from the President of Georgia Giorgi Margvelashvili to the Turkmen leader. During the meeting, a thorough exchange of views took place on the priority areas of the Turkmen-Georgian partnership. Among the topical areas of cooperation were identified areas of energy and transport. In this regard, it was stressed that Georgia fully supports the initiatives of the President of Turkmenistan in ensuring reliable and stable transit of energy resources and the formation of the international transport and communication infrastructure as the main factors of global sustainable development.
At the same time, the head of state and his guest spoke in favor of deepening traditional cooperation in the humanitarian sphere, including science, education and culture, as well as sports and tourism, for joint activities and exchange of experience in these fields.
At the end of the meeting, President Gurbanguly Berdimuhamedov and Prime Minister Giorgi Kvirikashvili expressed confidence in the further development of mutually beneficial Turkmen-Georgian cooperation.
During his stay in Ashgabat, Georgian Prime Minister Giorgi Kvirikashvili visited the Mejlis of Turkmenistan, where he met with the chairman of the parliament A. Nurberdyeva.
During the conversation the head of the Georgian government was acquainted with the structure and legislative activity of the Mejlis, as well as with the key directions of the domestic and foreign policies of neutral Turkmenistan. In the course of the exchange of views on the potential and opportunities of the Turkmen-Georgian partnership, the positive role of inter-parliamentary relations, which helped to strengthen the traditionally friendly bilateral relations, was noted.
Then the head of the Georgian government went to Kipchak, where he paid tribute to the memory of the first President of Turkmenistan, laying flowers at the Mausoleum, and visited the Turkmenbashi Spirituality Mosque.
In the second half of the day, the Prime Minister of Georgia visited the capital's Olympic town, where in September there will be competitions of the V Asian Indoor and Martial Arts Games.
During the official visit to Turkmenistan, the head of the Georgian Government also visited the International Akhal-Teke Equestrian Center.