A meeting with the Deputy Prime Minister of the Kingdom of Thailand was held at the MFA of Turkmenistan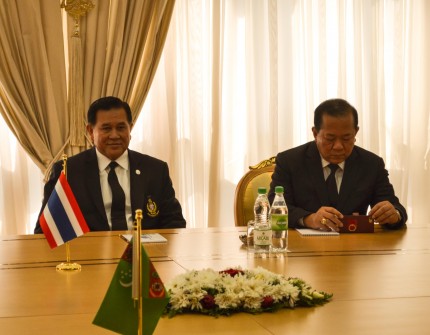 On September 18, 2017, at the Ministry of Foreign Affairs of Turkmenistan there was a meeting with the Thai delegation led by the Deputy Prime Minister of the Kingdom of Thailand, General Thanasak Patimapragorn, who arrived in Turkmenistan to participate in the opening ceremony of the 5th Asian Indoor and Martial Arts Games.
Expressing sincere gratitude for the warm hospitality, the guest stressed that the Kingdom of Thailand highly appreciates the policy of neutrality and good neighborliness pursued by Turkmenistan, and also congratulated Turkmenistan on the successful holding of the opening ceremony of the 5th Asian Games.
During the conversation, the sides noted with satisfaction the positive dynamics of the development of relations between the two countries. Particular attention was paid to the development of trade and economic relations. The parties discussed the possibilities of activating joint contacts, taking into account the raising of relations in this direction to a qualitatively new level. Also, the sides discussed the possibilities of developing relations between the business communities of the two countries, by organizing joint round tables and business forums.
At the end of the meeting, the sides noted the high level of mutual understanding and trust between the two countries based on mutual respect, equality and the pursuit of progress.