Turkmenistan and Turkey discussed issues of further enhancing bilateral cooperation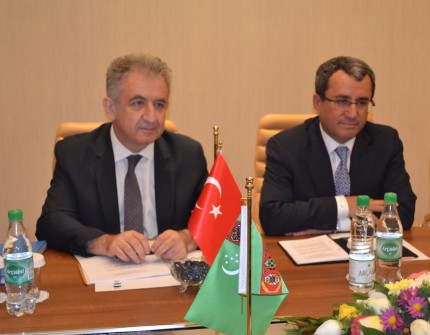 On November 14, 2017, a meeting was held in Ashgabat with the delegation of the Turkish Republic led by the Deputy Minister of Foreign Affairs of that country Mr. Ahmed Yildiz, who arrived in Turkmenistan to participate in the VII Regional Economic Cooperation Conference on Afghanistan (RECCAVII).
During the meeting, a constructive exchange of views on international and regional issues took place, as well as on strengthening joint actions to counter modern challenges and threats. The subject of an interested exchange of views was the opportunities for joint cooperation in the efforts to peacefully resolve the situation in Afghanistan. Expressing hope for fruitful cooperation within RECCAVII, the sides noted the role of Turkmenistan in the process of ensuring peace and sustainable development in the region.
During the meeting, having noted the high level of political-diplomatic, trade-economic and cultural-humanitarian relations, the sides exchanged views on the possibility of visits at the highest level. They expressed mutual interest in developing cooperation in the fields of economy and transport.