The Embassy of Turkmenistan in Malaysia held a presentation of the book «Turkmenistan - heart of the Great Silk Road»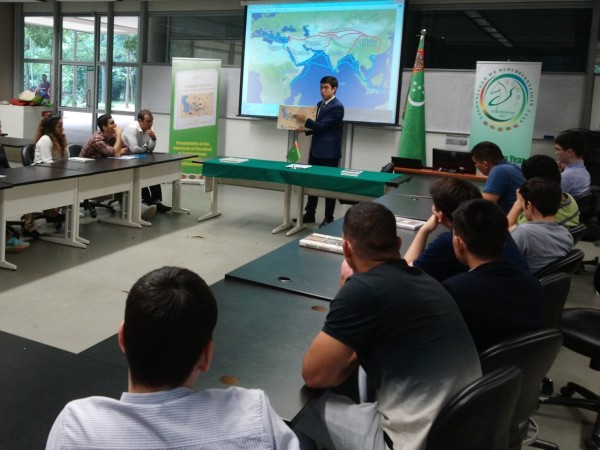 On November 29, 2017, the Embassy of Turkmenistan in Malaysia together with the Turkmen students studying at the Petronas Technical University and with representatives of the Student Council of this university held a solemn presentation of the book "Turkmenistan - heart of the Great Silk Road" by President of Turkmenistan Gurbanguly Berdimuhamedov.
Speakers at the solemn presentation noted the importance of the Silk Road in the life of our ancestors and that the Turkmen land played the role of a bridge between civilizations on the path of the Great Silk Road. All these important facts contributing to the activation of cooperation along the Great Silk Road route were reflected in the book of the distinguished President. The importance of the efforts made at the initiative of the Leader of the Nation for the development of the multilateral transport and communication infrastructure in Turkmenistan and the transformation of our country into the center of transport logistics of Eurasia was also noted.
The participants of the event highly appreciated the rich cultural and historical heritage of the Turkmen people, their national traditions, the influence of the Turkmen people on the development of world civilization, science and culture, which are shown in the new book of the Head of State in the form of interesting legends and stories, historical information and facts.
Also, at the exhibition arranged within the framework of the solemn presentation, its participants got an opportunity to get acquainted with other books of the President of Turkmenistan.
The students who spoke at the presentation noted that the books gifted by the President of Turkmenistan to the Turkmen people serve as an important guide in their life path, and also expressed gratitude to the Head of State for his tireless care and support that he provides to the young people in such important areas as education.