The next round of Turkmen-Turkish political consultations was held in Ashgabat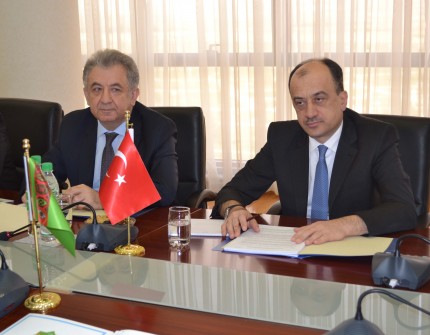 On March 9, 2017, political consultations between the Ministries of Foreign Affairs of Turkmenistan and the Republic of Turkey were held at the Ministry of Foreign Affairs of Turkmenistan. The delegation of the Turkish side was headed by the Deputy Foreign Minister, Ambassador Umid Yardim, who arrived in Turkmenistan on a working visit.
During the talks, the sides discussed topical issues of interstate cooperation, underscoring their mutual interest in the further development of the established political dialogue at a high level. Discussing the implementation of earlier agreements, the sides exchanged views on the development of a complex of bilateral relations in the political and diplomatic sphere. Expressing satisfaction with the dynamics of the development of relations, the parties discussed the possibilities for organizing visits at the highest level. Discussing the issues of cooperation in the international arena, there was expressed interest in intensifying cooperation within the framework of international organizations, among which the parties noted the UN, UNESCO, OIC. The sides made proposals on the integration of peacekeeping initiatives to combat such international challenges as terrorism and extremism.
Concerning the trade and economic sphere of cooperation, the need was noted to intensify Turkmenistan's export potential, as well as increase the volume of trade between the two countries. Stressing the need to continue to support regular contacts in this direction, the parties discussed the possibility of organizing meetings at various levels. Also, attention was paid to the development of cooperation in the fields of transport, energy and communications.
In addition, the sides touched upon the topic of cooperation between the two countries in the cultural and humanitarian sphere. In the context of Turkmenistan's announcement the year of 2018 as the year "Turkmenistan is the heart of the Great Silk Road" the sides agreed to hold joint events on this topic.