Round table on "Turkmenistan is the heart of the Great Silk Road" held in Baku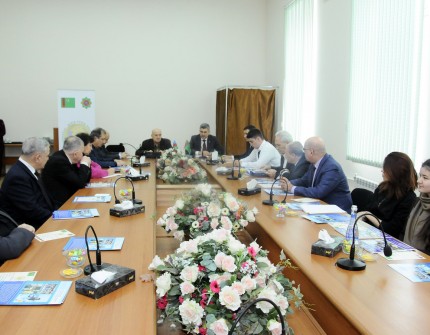 On March 7, 2018, the Embassy of Turkmenistan in Baku jointly with the Azerbaijan State University of Oil and Industry organized a roundtable on "Turkmenistan is the heart of the Great Silk Road". The event took place in the university building.
The round table was attended by academics, the faculty of the university, as well as Turkmen students and students studying at this university from China, Pakistan, India and Bangladesh.
At the beginning of the event it was reported that in Turkmenistan the current year 2018 was declared the year "Turkmenistan is the heart of the Great Silk Road". Further, the Turkmen side informed the participants of the solemn events that took place on 23.02.2018 in the Serhetabat district of the Mary velayat on the occasion of the start of a new stage of the construction of the Turkmenistan-Afghanistan-Pakistan-India (TAPI) gas pipeline, the laying of power transmission lines and fiber-optic communication along the Turkmenistan- Afghanistan-Pakistan, as well as the commissioning of the Serhetabat-Turgundi railway. It was noted that the growth of routes for the supply of energy resources to world markets through the creation of multi-vector transportation system is an important aspect of neutral Turkmenistan's energy policy.
Also speeches were delivered by Doctor of technical sciences, professor, Head of the Department "Development and Operation of Oil Fields", Corresponding Member of the National Academy of Sciences of the Republic of Azerbaijan Tulparkhan Salavatov and the Dean of the Faculty Yashar Hasanov.
Representatives of the news agencies AZERTAJ, Trend, APA, Leader TV, and Ichtimayi TV also took part in the roundtable.