Sports events were held in Ankara, the capital of the Turkish Republic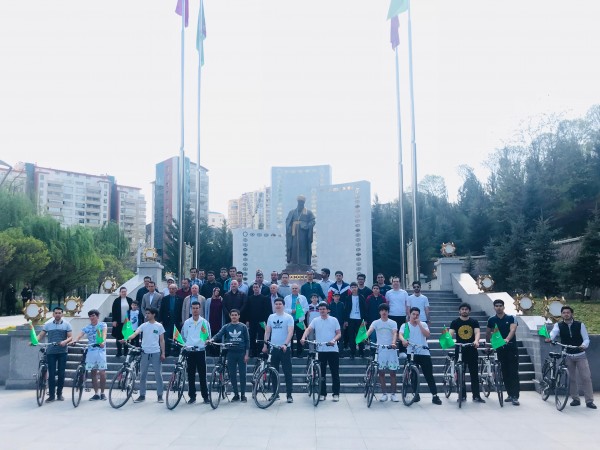 In honor of the month of mass physical culture and sports events held in our country under the slogan "Health and Happiness", which is organized annually from April 5 to May 5, and in honor of the Resolution "World Bicycle Day", adopted at the 82nd meeting of the 72nd session of the United Nations General Assembly, on April 12, the draft of which was developed on the initiative of the President of Turkmenistan Gurbanguly Berdimuhamedov, on April 14, 2018 the Embassy of Turkmenistan in the Republic of Turkey organized in the park "Turkmenistan" in the center of Ankara a number of sporting events in cycling, volleyball, table tennis and chess.
Employees of the Embassy, ​​chairman and members of the Turkish part of the Turkmen-Turkish inter-parliamentary friendship group, members of the Turkmenistan-Turkey Friendship Society, Turkmen and foreign students studying at Ankara universities, as well as representatives of the state TV channel TRT-Avaz took part in the sports competitions.
Before the start of the cultural and sporting event, its participants were introduced the message from the meeting of the Cabinet of Ministers of Turkmenistan held on April 13, 2018 about the next victory of the foreign policy of the President of Turkmenistan, on whose initiative a resolution was adopted declaring that every year on June 3, World Bicycle Day will be celebrated.
Metin Gundogdy, the chairman of the Turkish part of the Turkmen-Turkish inter-parliamentary friendship group, the deputy of the Justice and Development Party of the Ordu region, stressed that they are proud that such decisions are being made that raise the prestige of Turkmenistan on the international arena and noted that Turkmenistan pays serious attention to the development of physical education and sports.
Then in the park "Turkmenistan" was a cycling race for 10 kilometers. These sports events held by the Embassy of Turkmenistan to promote cycling and healthy lifestyles will serve as a call for more active sporting activities for diplomats of the Embassy and Turkmen students studying in Ankara. At the end of the sporting events, the participants were offered dishes of Turkmen cuisine.