Ambassador of the Democratic Socialist Republic of Sri Lanka handed over copies of credentials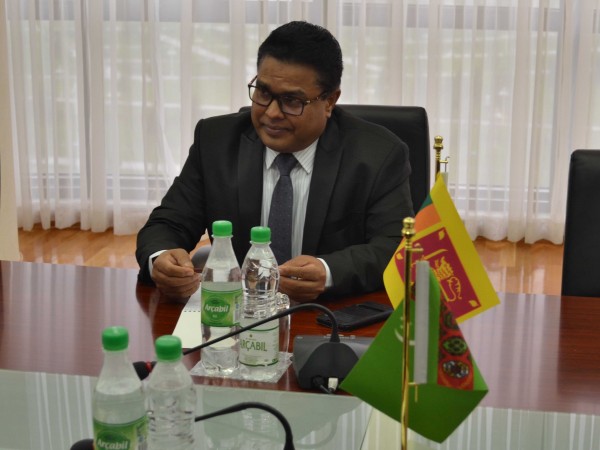 On April 16, 2018, a meeting was held at the Ministry of Foreign Affairs of Turkmenistan with the new Ambassador Extraordinary and Plenipotentiary of the Democratic Socialist Republic of Sri Lanka, Mr. Mohamed Shariff Anis (with residence in Tehran), who arrived in the Turkmen capital on a working visit.
Accepting copies of credentials, the Turkmen side expressed hope for the development of further fruitful cooperation and expressed its readiness to render all assistance and support to the Ambassador in his work.
During the meeting, the sides exchanged views on the current state of relations and discussed areas of mutual interest. Noting the issues of political and diplomatic cooperation, the parties considered the issues of the next meeting of political consultations planned to be held in Ashgabat in the near future.
In addition, special attention was paid to the issues of enhancing trade and economic relations. The sides noted the great potential of the export-import potential of both countries and expressed their proposals for further development of cooperation in the oil and gas, chemical, agricultural and textile industries.
Speaking about the prospects of the development of cultural and humanitarian cooperation, the parties considered the possibilities of developing cooperation in the field of tourism.