Priority positions of Turkmenistan's cooperation with international organizations discussed in Switzerland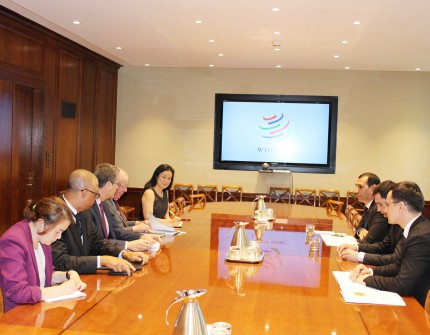 On July 4-5, 2018, a delegation headed by the Deputy Minister of Foreign Affairs of Turkmenistan S.G. Berdimuhamedov was in the city of Geneva on a working visit.
Within the framework of this visit, meetings were held with the UN Under-Secretary-General, the Executive Secretary of the United Nations Economic Commission for Europe (UNECE) Ms. Olga Algaerova, with the Director-General of the World Trade Organization (WTO), Ambassador Roberto Azevedo, with the Secretary-General of the Inter-Parliamentary Union, Martin Chungong, with President of the International Committee of the Red Cross (ICRC), Peter Maurer, with UN Under-Secretary-General, Secretary-General of the United Nations Conference on Trade and Development (UNCTAD) Mukhisa Kituyi, with the Director General of the World Intellectual Property Organization (WIPO) Francis Gurry, and with the Deputy Director General of the International Organization for Migration (IOM), Ms. Laura Thompson.
During the talks with the leaders of the above-mentioned international structures, the prospects for developing and strengthening bilateral and multilateral relations in various areas of joint cooperation were considered. In this connection, issues were discussed in such areas as energy, transport, inter-parliamentary relations, promotion and implementation of international humanitarian law, investment attraction, migration, intellectual property and ecology, including the issues of Turkmenistan's membership in international organizations.
At the same time, the delegation of Turkmenistan visited the city of Aigle, Switzerland, where a meeting was held with David Lappartient, President of the International Cycling Union. At the meeting the parties noted the international initiatives of Turkmenistan, in particular, the UN General Assembly resolution on the International Bicycle Day, and also discussed the issues of holding cycling competitions of international level in Turkmenistan.