Meeting with the Deputy Minister of Foreign Affairs of the Kyrgyz Republic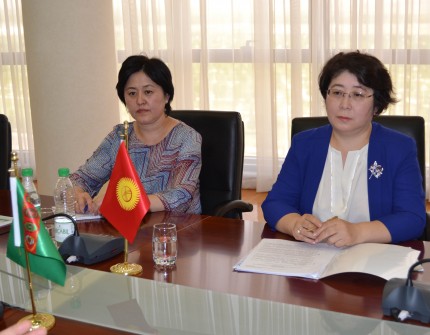 On July 10, 2018, at the Ministry of Foreign Affairs of Turkmenistan there was a meeting with the delegation of the Kyrgyz Republic led by Deputy Foreign Minister Dinara Kemelova, who arrived in the Turkmen capital to participate in the European Union-Central Asia and Afghanistan High-Level Dialogue on Politics and Security.
During the meeting, the sides, noting the importance of expanding the political dialogue, discussed a number of issues dealing with various areas of bilateral cooperation. In addition, during the meeting, the Deputy Foreign Minister of the Kyrgyz Republic noted the country's commitment to developing multifaceted cooperation in various directions with Turkmenistan. Further, the sides expressed the need to further intensify the political dialogue at the highest level, to develop cooperation through diplomatic agencies and international organizations.
A thorough dialogue was held on the development of a bilateral legal base. The parties also exchanged proposals on the issues of boosting trade relations in the field of exports and imports of goods between countries. The sides noted mutual interest in developing cooperation in the fields of energy, transport, tourism and education. They expressed confidence that the meetings held on a regular basis would contribute to the further development of mutually beneficial cooperation in all areas between Turkmenistan and the Kyrgyz Republic.