Political consultations between Turkmenistan and the Kingdom of Bahrain took place in Manama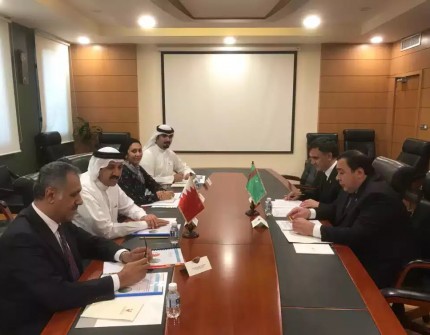 On July 31, 2018, a delegation of Turkmenistan headed by the Deputy Minister of Foreign Affairs arrived in Manama to conduct political consultations between Turkmenistan and the Kingdom of Bahrain. The delegation of Bahrain was headed by the Deputy Foreign Minister for International Affairs, Dr. Sheikh Abdullah bin Ahmed bin Abdullah Al Khalifa.
The agenda of the consultations included a wide range of issues related to the priority areas of bilateral cooperation. During the meeting, the parties conducted a thorough analysis of the implementation of interstate agreements and treaties.
The Bahrain side reaffirmed its commitment to further expanding its relations with Turkmenistan in a wide range of areas. Noting the country's foreign policy activities, built according to the country's neutral status, the parties discussed a wide range of regional and international issues of mutual interest and noted the need to continue bilateral consultations in regional and international organizations, primarily in the UN and its specialized agencies that form the basis of the multilateral cooperation.
Speaking about the interest in developing cooperation in the areas of trade, science and technology, the sides expressed interest in the creation of an intergovernmental Turkmen-Bahraini commission on economic cooperation, which, through its decisions, will stimulate the growth of trade and economic ties. Also, the parties expressed a number of proposals for further intensification of bilateral cultural and humanitarian relations.
In addition, within the framework of the visit, the delegation of Turkmenistan had a meeting in the Chamber of Commerce and Industry of the Kingdom of Bahrain. As a result of negotiations, the parties agreed to hold a joint business forum in Ashgabat at the end of this year.