The Presentation of the National Plan of Action on Human Rights for 2021-2025 of Turkmenistan was held in Ashgabat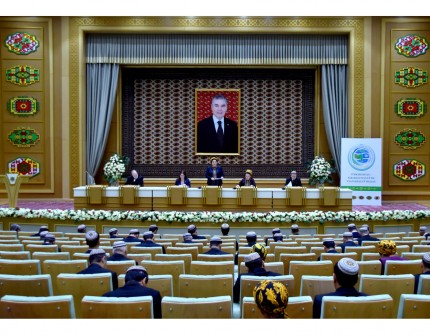 On May 19, 2021, the Presentation of the National Plan of Action on Human Rights for 2021-2025 of Turkmenistan affirmed by the relevant Resolution of the President of Turkmenistan Gurbanguly Berdimuhamedov in April of current year was held in the Center of Public Organizations of Turkmenistan.
The heads and members of both Chambers of the National Council of Turkmenistan (Mejlis and Halk Maslakhaty), chairmen of the political parties and public organizations of the country, head of the Institute of State, Law and Democracy, Ombudswoman of Turkmenistan, rectors of the higher education institutions, heads and representatives of the offices of international organizations working in the country, as well representatives of the local and foreign mass media attended the event.
In her opening speech, the Chairwoman of the Mejlis (Parliament) of the National Council of Turkmenistan Gulshat Mammedova told about the importance of the given document worked out in close coordination with the relevant international organizations, in particular the Office of the United Nations Development Programme in Ashgabat. It was stated that Turkmenistan is a party to a number of international legal conventions and treaties in the area of human rights and liberties, and continues to adapt the international expertise in the given field.
In their speeches, the representatives of international organizations highly appraised the level of cooperation with the Turkmen side in the area of human rights. In this respect, the importance of the joint work with the Inter-departmental Commission on the Implementation of International Obligations of Turkmenistan in the area of Human Rights and International Humanitarian Law was underlined.
The participants of the session were thoroughly acquainted with the tasks and strategic courses fixed in the document and exchanged views on their effective implementation.
As known, the adoption of the given National Plan is aimed at the strengthening of the national system of guaranteeing, provision and protection of human rights and liberties in Turkmenistan, implementation of the international obligations of the country in the given area and the expansion of cooperation with the international organizations in humanitarian sphere.