Meeting in Embassy of Turkmenistan with Minister of State of Pakistan for Poverty Alleviation and Social Safety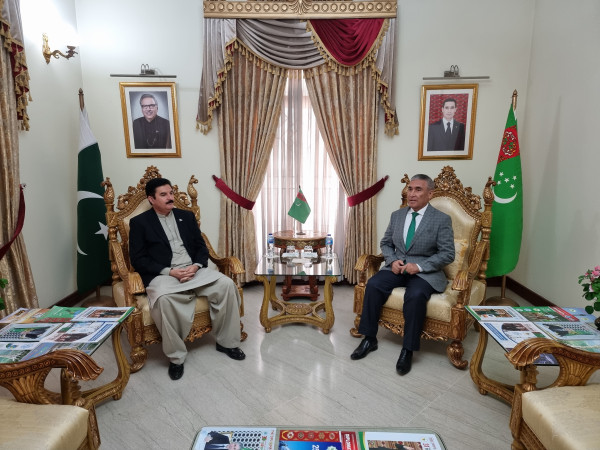 On March 28, 2023, the Minister of State of Pakistan for Poverty Alleviation and Social Safety Faisal Karim Kundi visited the Embassy of Turkmenistan in Islamabad and had a meeting with Ambassador of Turkmenistan A.Movlamov.
During the meeting current conditions and perspectives of the trade and economic relations between Turkmenistan and Pakistan were discussed. The sides emphasized the huge potential of bilateral trade and transit cooperation between the two fraternal countries.
The State Minister was informed about latest developments in Turkmenistan and important political event – successful elections of deputies of the Mejlis, members of the velayat, etrap and city halk maslahaty, as well as Gengeshes, which took place on 26 March on a broad alternative basis with the active participation of the citizens of Turkmenistan.
The ambassador of Turkmenistan introduced the minister with the new city of Arkadag in the Ahal Province, which will be the first city in the region operating on the basis of the "smart city" concept.
The sides also discussed the progress of the implementation of the joint energy projects - the Turkmenistan-Afghanistan-Pakistan-India (TAPI) gas pipeline Turkmenistan-Afghanistan-Pakistan (TAP) power transmission line and fiber-optic communication line. It was confirmed, that implementation of these projects is significant for ensuring the energy security and economic growth of Pakistan and the region.