A working visit of the delegation of Afghanistan to Turkmenistan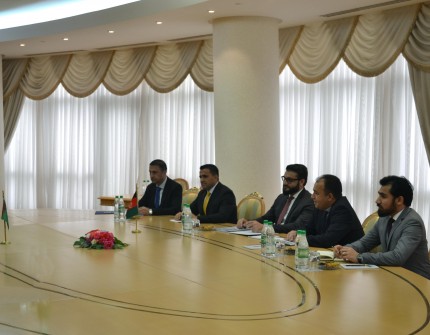 On 22 June 2019, the delegation of the Islamic Republic of Afghanistan headed by National Security Adviser Hamdullah Mohib arrived to Turkmenistan on a working visit.
During the visit, a meeting was held at the Ministry of Foreign Affairs of Turkmenistan. Strengthening and development of friendly fraternal relations with Afghanistan are the main directions of Turkmenistan's foreign policy.
The members of the Afghan delegation expressed their gratitude to the distinguished President of Turkmenistan for launching international initiatives to stabilize the neighboring state in a peaceful way, as well as for the tireless efforts to restore the state socially and economically.
During the meeting, the sides discussed a number of issues related to the implementation of the construction of the Turkmenistan-Afghanistan-Pakistan-India gas pipeline project, as well as power lines and fiber-optic communications on the route Turkmenistan-Afghanistan-Pakistan.