Turkmen delegation participates to the Exhibition «Heimtextil 2020»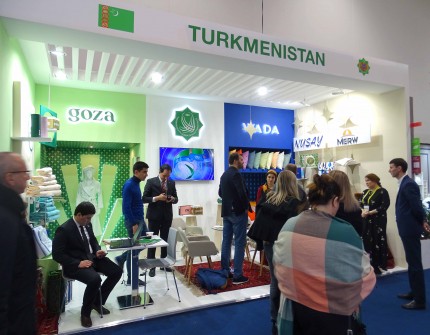 On the 7th of January 2020, International Exhibition of textile industry "Heimtextil 2020" has started in the city of Frankfurt am Main of the Federal Republic of Germany.
The delegation composed of the representatives of the Ministry of Textile Industry, Chamber of Trade and Industry of Turkmenistan, as well as the private entrepreneurs of the country is taking part in the Exhibition.
The given International Exhibition is organized annually in the "Messe Frankfurt" Exposition Centre located in Frankfurt am Main. This year, the «Heimtextil 2020» Exhibition is taking place during the period of 7-10 January, in which around 3500 international companies and various entities from 65 countries of the world are participating.
In the first day of the Exhibition, the produce of the textile industry of Turkmenistan was showcased and received high appraisal of the participants of the event.
Also in the framework of the visit, the members of Turkmen delegation held meetings with the representatives of the «Messe Frankfurt» Exhibition Company and other organizations from various countries of the world producing the textile goods.