16th meeting of Intergovernmental Turkmen-Iranian Commission on Economic Cooperation was held in Tehran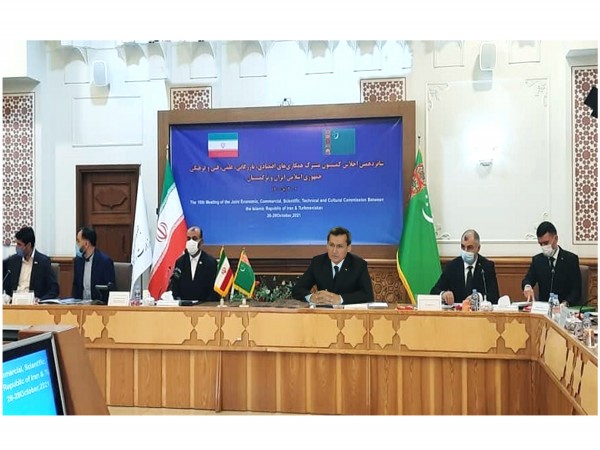 On October 26-27, 2021, 16th meeting of Intergovernmental Turkmen-Iranian Commission on Economic Cooperation took place in Tehran in participation of the co-chairmen of the Commission – the Deputy Chairman of the Cabinet of Ministers, Minister of Foreign Affairs of Turkmenistan R.Meredov and the Minister of Roads and Urban Development of the Islamic Republic of Iran R.Ghasemi.
The meeting was also attended in very format by the heads and representatives of the relevant ministries and agencies of the two countries.
During two days Turkmen and Iranian experts discussed main directions of interaction and priority joint projects for the near future.
As ministers underlined, the meetings in the framework of the Joint Commission act as an important platform for the discussion of actual issues of bilateral and multilateral interaction. In this regard, it was noted high level of cooperation between Turkmenistan and Iran based on trustful political dialogue and progressively developing in various fields.
The progressive pace of economic interaction of the two countries is also matched by the development of the legal and regulatory base of bilateral relations. In this context the ministers expressed the need of further improvement of the legal base of cooperation, which consists of the solid package of documents regulating the issues of cooperation in political, economic, humanitarian and other perspective spheres.
R.Meredov and R.Ghasemi having underlined the positive dynamics of development of bilateral trade-economic cooperation stated that Iran remains to be one of the significant partners of Turkmenistan in the region. In this regard, new plans are outlined for further intensification of mutual actions in this direction.
The importance of the development of bilateral ties in the field of transport and transit, as well as in fuel-energy partnership with access to new formats of interaction was underlined.
The parties exchanged views concerning the implementation of the agreements reached in the course of the previous meeting of the Commission. In this regard, the opportunities of activation of the contacts on the line of trade-economic interaction, customs and border regulation, industry, agriculture and a number of other directions of bilateral collaboration were considered.
Special attention was paid to the expansion of bilateral collaboration of the regions of the two countries, activation of the contacts in the spheres of education and culture, environment protection and medical industry. Ministers agreed to hold a number of earlier postponed events in the field of culture including Cross Days of Culture and exchange of creative groups.
Following the results of the 16th meeting of the Intergovernmental Commission, a Protocol was signed.