Political consultations between Turkmenistan and Switzerland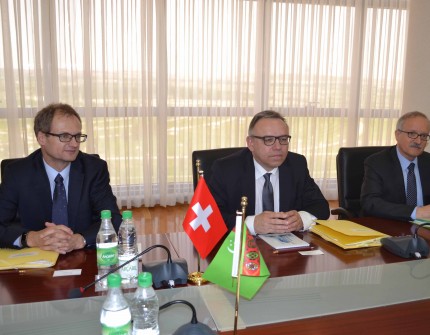 On April 26, 2018, at the Ministry of Foreign Affairs of Turkmenistan the political consultations had been held between the Ministry of Foreign Affairs of Turkmenistan and the Federal Department of Foreign Affairs of Switzerland. The Swiss delegation was headed by Ambassador Nicolas Brühl, Assistant State Secretary for Europe, Central Asia and OSCE of FDFA of Switzerland.
During the consultations, issues of bilateral relations in the field of political contacts, interparliamentary interaction and cooperation within the framework of international organizations were discussed. There was also an exchange of views on a number of regional issues and aspects of the international agenda, among which there were the issues of countering international challenges. The Swiss side noted the positive role of Turkmenistan in the framework of its chairmanship in IFAS. In this context, the parties expressed their readiness to consolidate efforts in this direction.
Separately, emphasis was placed on the issues of trade and economic cooperation in the context of the meeting of business structures of the two countries held last year. In this regard, the parties agreed to continue working to find new mechanisms for expanding cooperation in the field of investment activities.
Stressing the importance of continuing the established dialogue, which meets mutual interests for further diversification of fruitful cooperation, the parties noted the role of the visits of official delegations.