The Conference of Regional Economic Cooperation for Afghanistan began its work in Ashgabat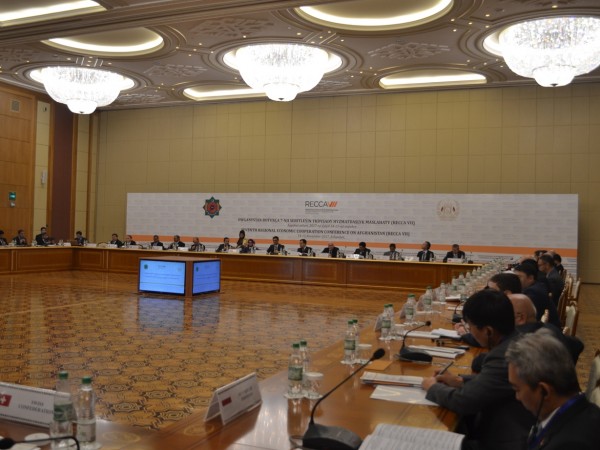 On November 14, 2017 a two-day 7th Regional Economic Cooperation Conference on Afghanistan (RECCA VII) began its work in the capital hotel Yyldyz. The plenary session and three sessions of the working groups were held on the first day of the conference.
The first day of the forum was attended by the representatives and experts of the countries participating in the RECCA VII and a number of international organizations, including specialized UN structures, media representatives.
The plenary session was opened by the Deputy Foreign Ministers of Turkmenistan and the Islamic Republic of Afghanistan. Working groups drafted the agenda of the Conference, the main theme of which was proposed to define the development of private sector and the expansion of economic relations.
During the meetings of the working groups, discussions and exchange of views took place on issues related to the implementation of energy and transport and communication projects implemented with the participation of Afghanistan, trade facilitation, private sector development and business cooperation among entrepreneurs.
In the afternoon, a special exhibition of goods produced by Turkmen and Afghan businessmen was held in the business center "Mizan". In addition, business and trading houses of several regional countries exhibited their stands. The exhibition presented medicinal products, food and processing industry products, textiles, consumer goods, various decorations and souvenirs.
In addition, representatives of the Chambers of Commerce and Industry of Turkmenistan and Afghanistan met in the "Archabil" hotel, within the framework of the RECCA VII Conference. Opening speech at the meeting was made by the Minister of Trade and Industry of Afghanistan H. Rasav.
On November 15, the Seventh Regional Economic Cooperation Conference on Afghanistan (RECCA VII) will continue its work.